Four unsung heroes recognized for their critical work in Hawaiʻi
Partners in Development Foundation's (PIDF) 2021 Ulu Hana: Pewa Awards will recognize four individual leaders who have made a significant difference in addressing and supporting critical community needs or challenges within the state of Hawaiʻi. This year PIDF honors the work of Twinkle Borge and James Pakele of Puʻuhonua o Wai'anae; Innocenta Sound-Kikku of Pacific Voices, a program of Kōkua Kalihi Valley; and Virginia "Ginger" Fuata of Liliʻuokalani Trust.
A pewa is a bow-tie-shaped patch used in traditional Hawaiian woodworking that is strategically placed to mend a crack along a wooden surface to prevent further damage, thus bringing unity where there was once discord. The pewa itself may not appear to play a major function, however, it introduces a new way for the older or damaged woodwork to thrive. Like the pewa itself, the Pewa Awardees operate with minimal recognition for their innovative, diligent efforts to fill in the gaps of their communities. These individuals work tirelessly to engage the resources necessary to see sustainable change.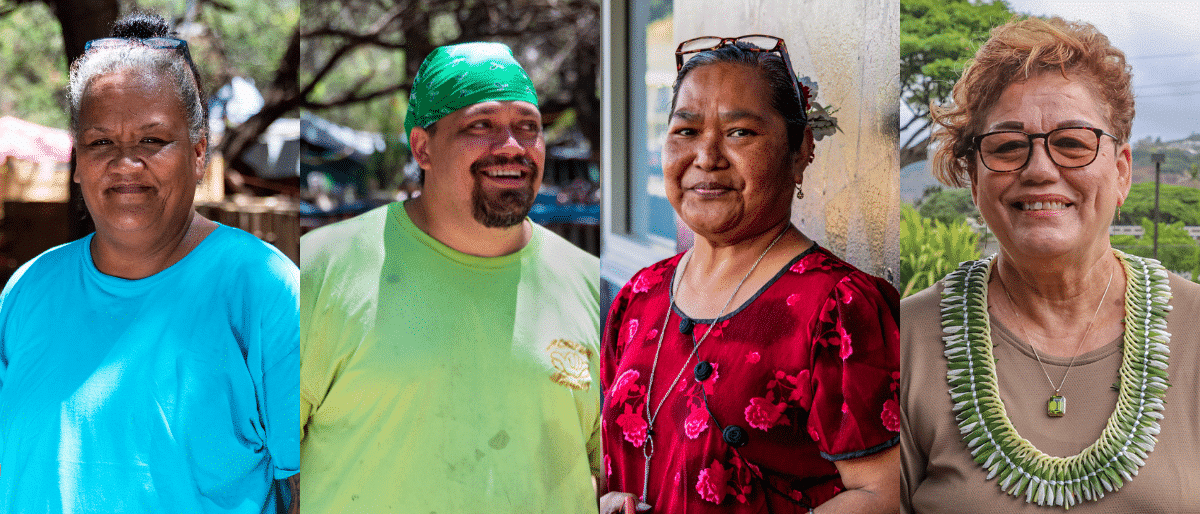 PIDF is honored to share the 2021 Pewa Awardees:
Twinkle Borge and James Pakele of Puʻuhonua o Wai'anae created an exemplary community-driven solution to Hawaiʻi's affordable housing crisis, based on their lived experiences, compassion, and resiliency. Together, they manage a village of over 160 people who are houseless at the Wai'anae Boat Harbor, where some ʻohana who participate in the PIDF Ka Paʻalana Family Education Program live. From food, shelter, health, security, and basic needs, Twinkle and James ensure that individuals and families of Waiʻanae, largely of Native Hawaiian descent, have a safe place to live.
Innocenta Sound-Kikku of Kōkua Kalihi Valley's Pacific Voices program paved the way for many youth in the Micronesian and Pacific Islander community to embrace their cultural ties and successfully navigate life in Hawaiʻi. Innocenta leads after-school programming for children in Kalihi, which includes bilingual education, teaching oli, protocol, and values of their cultures, and traditional arts and crafts. In addition to her work at KKV Innocenta is an active advocate for Micronesian rights in areas like health care and education.
Virginia "Ginger" Fuata of Liliʻuokalanai Trust is known to many at-risk youth as Aunty Ginger, for her role as a foster or hānai caregiver. In the past 23 years, Ginger has cared for and ensured the wellbeing of vulnerable Native Hawaiian children and their ʻohana. As a longstanding board member of the Waiʻanae Coast Comprehensive Center, she advocates for health care needs for the people of Hawaiʻi through her work with Congressional and House representatives in Washington D.C. Ginger takes action to fill in the gaps of accessibility to resources for the community members of Waiʻanae, like providing school supplies to children and hosting food distributions to address food insecurities during the Covid-19 pandemic.
"So many lives have been blessed by the special individuals being honored this year as Pewa Awardees. These unsung heroes are the boots on the ground, go-getters who truly inspire transformational change. Despite the trials and tribulations we faced this year, these leaders poured their hearts into the livelihood of their community. They truly embody the pewa, playing an unassuming yet powerful role in creating a more healthy and resilient Hawaiʻi," said Shawn Kana'iaupuni, President and CEO of Partners in Development Foundation.
The Ulu Hana: Pewa Awards is a major fundraiser for the Partners in Development Foundation that typically takes place in person. Along with recognizing the work of Hawaiʻi's unsung heroes the event acknowledges and celebrates the work of PIDF within the areas of multi-generational education, strengthening families and communities, and island resiliency.
The hour-long Ulu Hana: Pewa Awards broadcast will air on August 21 at 6:00p.m. on KGMB, August 22 at 1:00p.m. on KHNL, and August 23 at 7:00p.m. on K5. Viewers will also have a chance to bid on an online auction as well as join the livestream event, RSVP for free here.