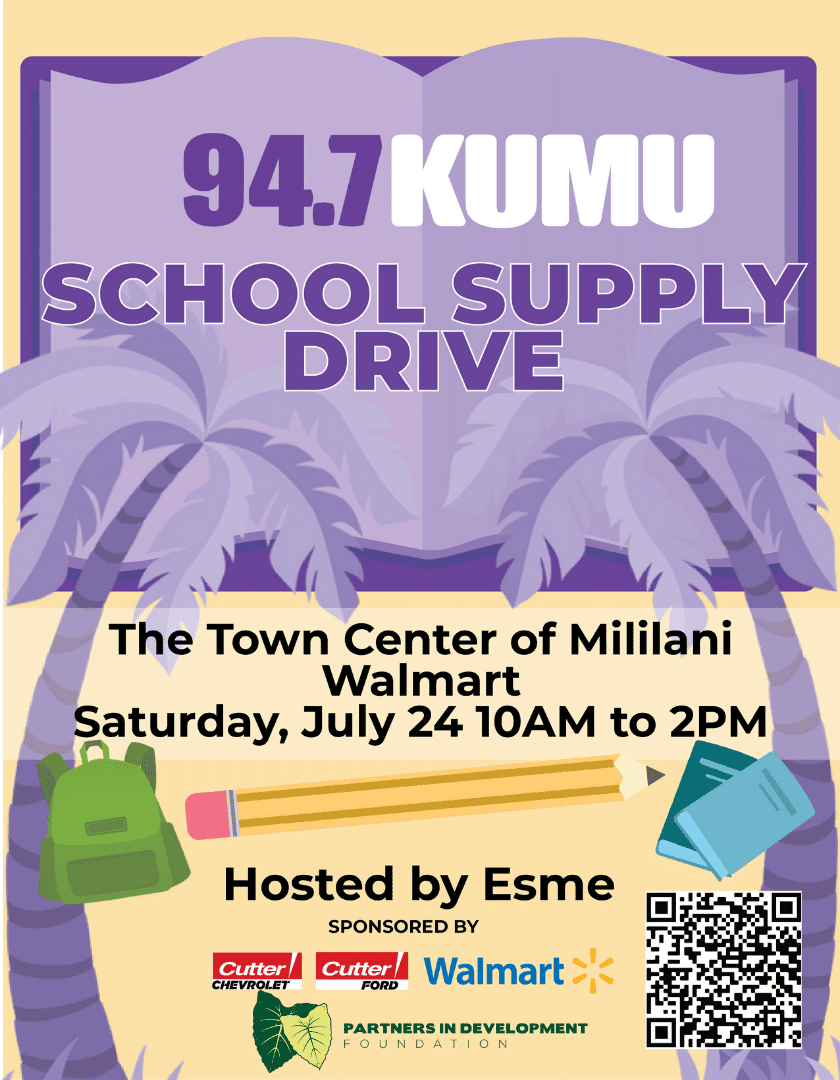 CUTTER CHEVROLET & CUTTER FORD ALONG WITH 94.7 KUMU
INSPIRE AND EQUIP KEIKI TO GET BACK-TO-SCHOOL
The keiki of the Partners in Development Foundation's programs in underserved communities will receive supplies and support as they prepare for an in-person school year.
Shoppers will have an opportunity to support Hawaiʻi's keiki of Partners in Development Foundation (PIDF) on Saturday, July 24th from 10:00 AM – 2:00 PM at the WalMart in the Town Center of Mililani. The Back-to-School Supply Drive is sponsored by the family operated Cutter Chevrolet and Cutter Ford dealerships, in partnership with 94.7 KUMU-FM of Pacific Media Group.
Supporters and donors will have a chance to check out the 94.7 KUMU-FM Rise and Drive Morning Host Esme Infante's Cutter Chevy Traverse "Xena" while dropping off donations to help our underserved youth. The supplies will support preschool- and elementary-aged keiki of two PIDF programs that aim to serve (ALICE) Asset Limited, Income Constrained, Employed Communities.
The Ka Paʻalana family education program serves the Leeward coast of Oʻahu and Hawaiʻi Island, and Nā Pono No Nā ʻOhana, youth education program, serves ʻohana in Waimānalo. The Cutter team aims to equip over 300 keiki with basic school supplies – plus, 87x backpacks filled with school supplies for the keiki at Hope Shelter. Any additional donations will support keiki at other Ka Paʻalana preschool sites as well as Nā Pono No Nā ʻOhana.
The Back-to-School Supply Drive will feature music and prize giveaways from supporting sponsors, including Ruby Tuesday Hawaii, Gyu-Kaku Japanese BBQ, Jeans Warehouse, and Raising Canes.
Can't make it to the drive but still want to support our keiki? Make a donation here and help us raise a goal of $1,000!