Na Makamae: Aaron Mahi, Hui Nohona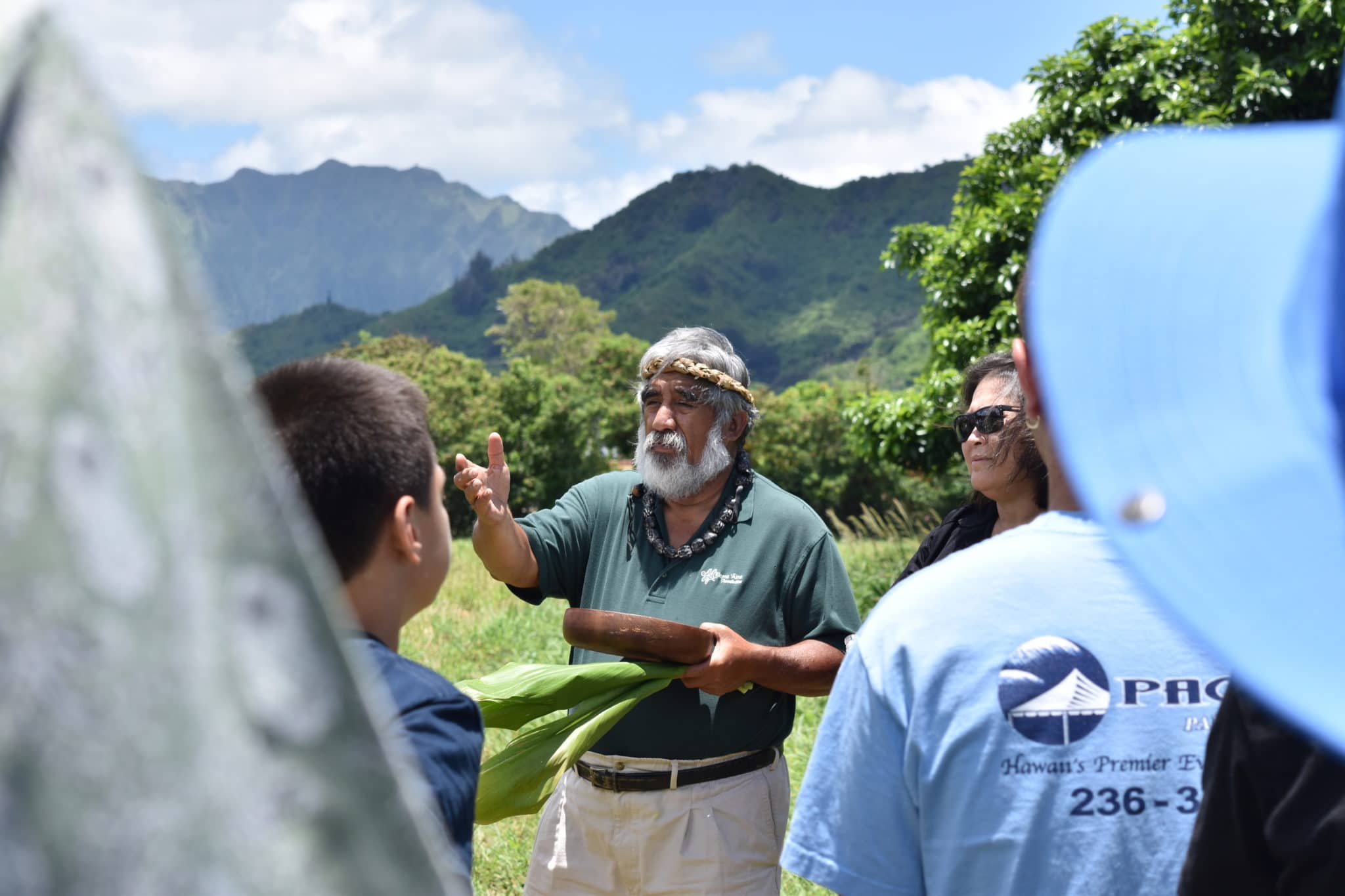 Since 2009, Aaron Mahi has been a part of the Partners in Development Foundation (PIDF) Hui Nohona culture team. He helps to bring Hawaiian cultural practices and traditions to our staff and program families through his wisdom and gift for music.
'Uncle' Aaron is arguably most well-known throughout Hawaiʻi nei as Band Master for the Royal Hawaiian Band, a position he held from 1981 to 2005. Through his tenure there, he conducted the Band's first appearance at the famed Carnegie Hall, the Peace Park in Hiroshima, and in 2003 earned the Medal of Merit from Germany.
Outside of his work at PIDF, Aaron is currently the Second Vice Chair of the Land Use Commission, the Director of the Kamehameha Alumni Glee Club, and is the pastor of the Makiki Community of Christ Church, among many other hats.
Aaron is a Hawaiian Renaissance soul says long-time friend and colleague Nola A. Nāhulu.

Nola is a Hawaiian choral conductor, currently the Artistic Director of the Hawaiʻi Youth Opera Chorus (HYOC) and others. She has known Aaron since their seventh grade year at Kamehameha Schools. "He understands our Hawaiian history and where he's from, he understands Hawaiian music."
Nola recounts a few anecdotes of her long working history with Aaron, citing many of his former and current positions. But she explains that through it all, he's remained humble, hard working, and "very ʻoluʻolu."
"He's a very deep soul. He sees more than the person in front of him. He looks into the entire situation and what people contribute to each other. And always in the most positive of ways."
Peter Young, president of the Board of Trustees for the Hawaiian Mission Houses, worked with Aaron in 2018 for a combined high school choir project. After hearing numerous people tell him the project could not be done, Peter knew he had to get the right person to conduct.
When asked, Aaron said 'yes' immediately and the four-school choir was a resounding success. Peter says he hopes it can be repeated in the coming years, and help students across the Islands to understand the history that connects them — something Aaron helped to organize through his efforts
"Aaron is a special person that doesn't mind who gets the credit. He'll do things because it's the right thing to do."
It's a sentiment repeated by many who know Aaron, including his colleague Malia Scanlan. Malia is also a Hawaiian Cultural Specialist Assistant with Hui Nohona and has been working with Aaron at PIDF for almost five years.
"He doesn't just talk about things," explains Malia. "If he believes in something, he'll stand up and go and do it. Malia works closely with Aaron in the Hui Nohona team, and they come up with cultural lessons for PIDF staff and program participants.
From Aaron's regular "Hawaiian Words of the Week" segments to their recent "ʻAi Akua" series, the work of Hui Nohona embodies part of our mission and helps people to better understand and find relevance for Native Hawaiian traditions.
"Uncle Aaron is a treasure to the Hawaiian community. He opens his mouth and pearls drop," says Malia. Malia talks about Aaron's innate ability to explain things in a way that every individual can understand, "because it's coming from that viewpoint of aloha, which is at his core."
Described as an enthusiastic and engaging teacher, Aaron brings this "viewpoint of aloha" into all of his work and personal interactions.
Mahalo nui loa, Uncle Aaron, for all the incredible work you do here at Partners in Development Foundation, and in our communities!
---
Na Makamae is our monthly segment where we recognize employees who are doing tremendous work with the children and families they serve. 'Na Makamae' refers to those who are prized, highly valued, highly appreciated. Na Makamae are those who are endeared to us.